Merton Music Foundation is lucky to have a thriving Parents' Association, the Friends of Merton's Young Musicians (FMYM). Parents and carers of all pupils who have lessons with us are automatically members.
FMYM meet regularly to coordinate fundraising activities and events and they also run a pop-up cafe at Music Centre on Saturdays and at our end-of-term concerts. If you're at Music Centre on Saturday mornings anyway, please consider signing up for the rota.
It's through their committed fundraising efforts that we have been able to purchase some of the more expensive musical instruments and there have been considerable contributions to the costs of sheet music, major events including 'Music is for Life' at the Royal Albert Hall and overseas tours.
Ian Bond currently chairs FMYM and can be found most Saturdays at the Music Centre or you can contact him by emailing  fmym4mmf@gmail.com
Sponsor a Piano Key
FMYM have recently launched a new fundraising venture to help raise money towards a new grand piano. All the pianos currently at Music Centre are over 30 years old and a good quality one is essential, not only for exams and concerts but also for accompanying higher-level instrumentalists, aural tests and for visiting musicians.
Why not help us by sponsoring a key? Simply email fmym4mmf@gmail.com with the key of your choice and your donation amount (£25 minimum) and they will arrange the rest. Your name/message (max 25 characters) will appear on the MMF website and in the first programme featuring the new piano.
You can see which keys are still available here: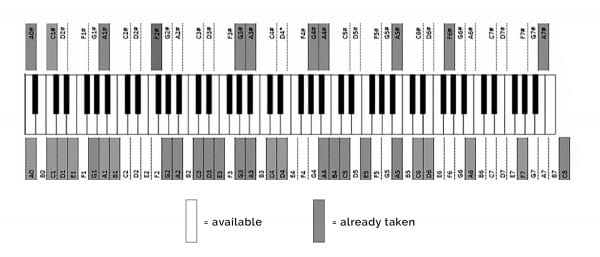 Annual General Meeting 2018
Thanks to everyone who attended the AGM in October.  Click on the links below to see the meeting's slides and minutes.