Music Lessons
Prices below are for lessons online and in Merton schools. Fees are payable termly via invoice, prices displayed are for 10 lessons.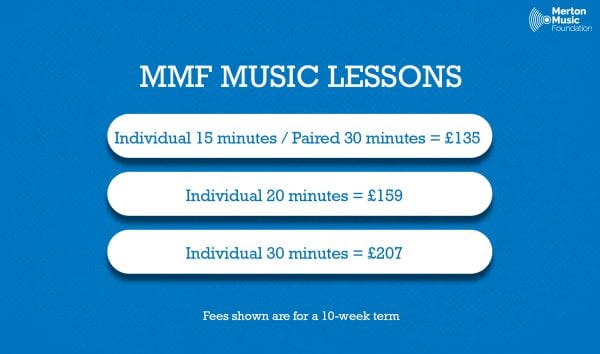 Please note that paired lessons online are subject to availability. In-school shared lessons will only be possible within a 'bubble', typically this will mean with a pupil from your child's class or year group.
Prices for lessons that take place at our Music Centre are usually a little higher because we rent the space. Whilst your child's lessons remain online, you will benefit from our lower school-lesson prices.
E-Music Centre Membership
Children and young people (up to 19 years of age): £99* per term.
(£19 reduction for siblings)
Children in receipt of support from the MMF Trust Fund – 50% discount / £49.50
(*One fee includes membership of all Music Centre bands, choirs, orchestras and ensembles run by Merton Music Foundation)