---
Learn In-School or Online
70% of our instrumental lessons are in-person in Merton schools. All lessons are COVID-Safe.
Click here to check your child's school's in-person teaching status.
You can also learn online, via Zoom. Rated 4.5 out of 5 stars by parents.
Online Lessons Offer: Free Trial Lesson – If you don't think online learning is right for your child, you won't be charged.
---
More Info
We are delivering in-person lessons in approximately 70% of the schools in which we normally teach. All lessons are subject to strict COVID safety protocols.
Where lessons can't be taught in-person, we offer online lessons instead.
Click here to find out more about how we are unlocking music lessons in Merton
Click here to see the in-person teaching status of your child's school. 
If you are only interested in in-person lessons, please tell us this in the 'Notes' during the sign-up process. It may be necessary for your child to be put on to our Waiting List.
It may take us a little while to make in-person teaching arrangements with some schools it may not be possible to fulfil in-person teaching in some settings until after a Covid vaccine is found.
All in-person lessons are subject to being transitioned online in the event of local lockdown, school closure or tutor/pupil self-isolation.
Prices below are for lessons online and in Merton schools. Fees are payable termly via invoice, prices displayed are for 10 lessons.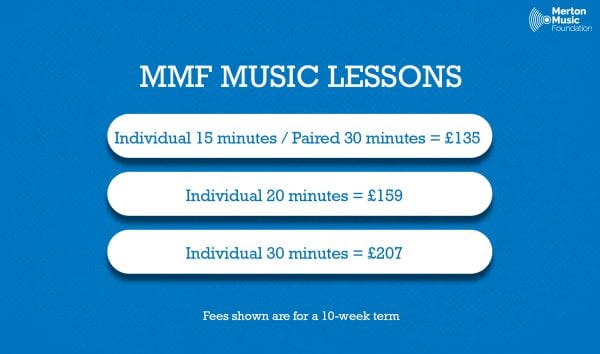 Please note that paired lessons online are subject to availability. In-school shared lessons will only be possible within a 'bubble', typically this will mean with a pupil from your child's class or year group.
Prices for lessons that take place at our Music Centre are usually a little higher because we rent the space. Whilst your child's lessons remain online, you will benefit from our lower school-lesson prices.
Before signing-up for lessons, please:
Other Important Documents:
MMF core staff and tutors will be on hand with support. If you have any questions, email: admin@mmf.org.uk
Click here if you would like details of the financial assistance that MMF can offer.
Is your child missing out on lessons due to the financial impact of COVID-19? They may be eligible for our COVID-19 Bursary. Click here to find out more.
If your child has participated in one of our In2Music programmes at school, click here to apply for an In2Music Continuation Discount.
---
Parent feedback
"I am very happy with the teaching online. Both my children still enjoy their lessons and both are still learning. Thank you!"

"(Online) lessons have been amazing and my son has remained motivated and excited to learn and practice. It's been wonderful to hear bits of the lessons and how positive and encouraging (my son's tutor) is."
"We prefer my daughter's music lessons being online. It means we get to sit in on the lesson, can follow her progress and know what the teacher (who is excellent) has asked her to do each week. My daughter is practising more now than she ever did before and we are so pleased that we continued with the e-lessons. Thank you.".
---