Online Learning
Merton Music Foundation has launched an E-Learning platform which offers online instrumental tuition to the young people of Merton during this period of social distancing. Our tutors use Zoom Online Video Conferencing to deliver live E-lessons. If your child is already having lessons, head over to our E-Music Centre page to see what group activities they could join at our online Music Centre.
Fees
The second part of the summer E-term is a 6-week block from the week commencing 1st June and we're offering a 15% discount on our regular fees. Half term is the week of 25th May.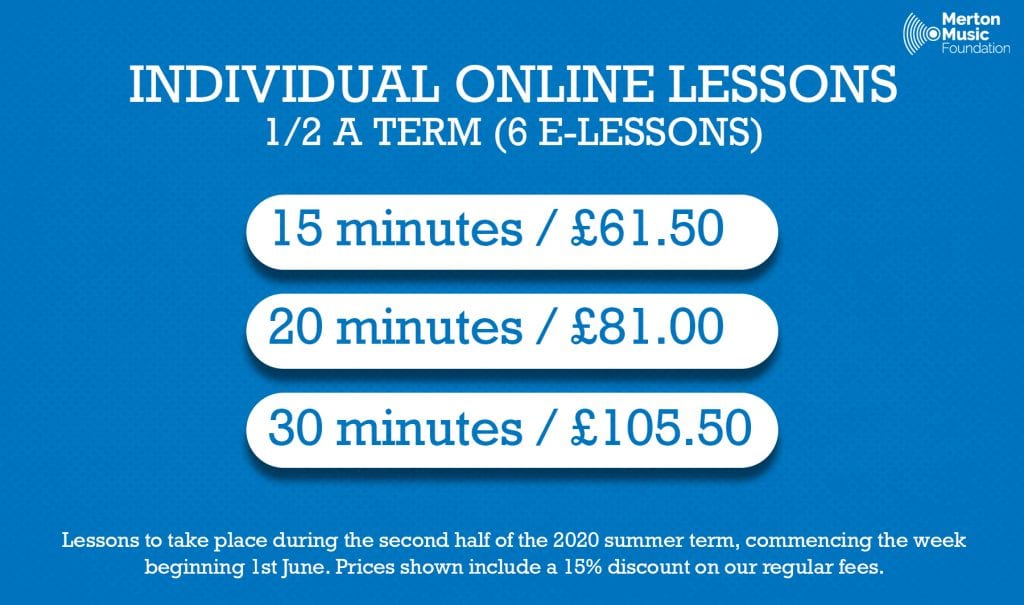 Please note that we are not currently able to offer shared/group lessons online.
Need to hire an instrument?
It is possible to hire an instrument from us, however we are currently running a reduced service due to COVID-19. If you indicate that you would like to hire an instrument from us, we will contact you to arrange safe collection.
Financial Assistance
Click here if you would like details of the financial assistance that MMF can offer.
How to sign-up
Download Zoom to your computer, tablet or phone (you will need to make an account using a parent/guardian's email address). Scroll down for links.
Then all that's left is to…
Once we have processed your sign-up form, we will notify your tutor who will contact you to arrange your child's first E-lesson.
MMF core staff and tutors will be on hand with support. If you have any questions, email: e-learning@mmf.org.uk
Click to read our full ONLINE LEARNING POLICY
---
ZOOM
To help you set up Zoom here's a handy tutorial. The links to download Zoom for your computer, tablet or phone are below.
Zoom download links: