One-to-one music lessons in the heart of Wimbledon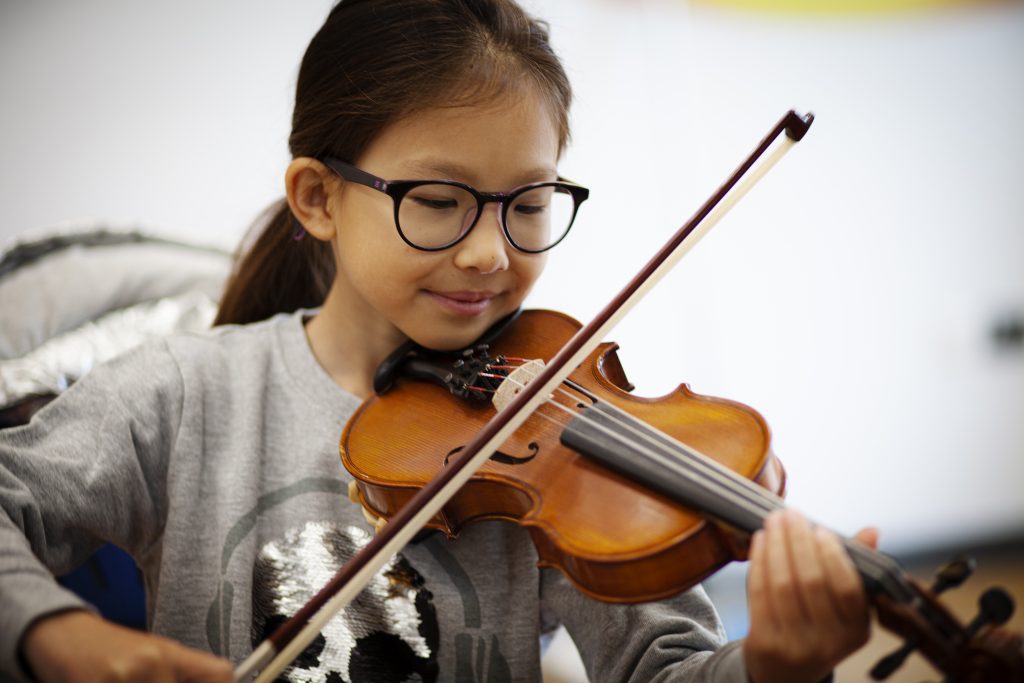 Ages 6+
Saturdays 8:30am – 4pm, Wimbledon College Music Department, Edge Hill, SW19 4NS
---
A New Start
The Saturday Music School has enjoyed a long and rich history. We are very excited to announce this new partnership between Wimbledon College and Merton Music Foundation for this next stage of its operation.
---
Instruments Taught
Music is for Life!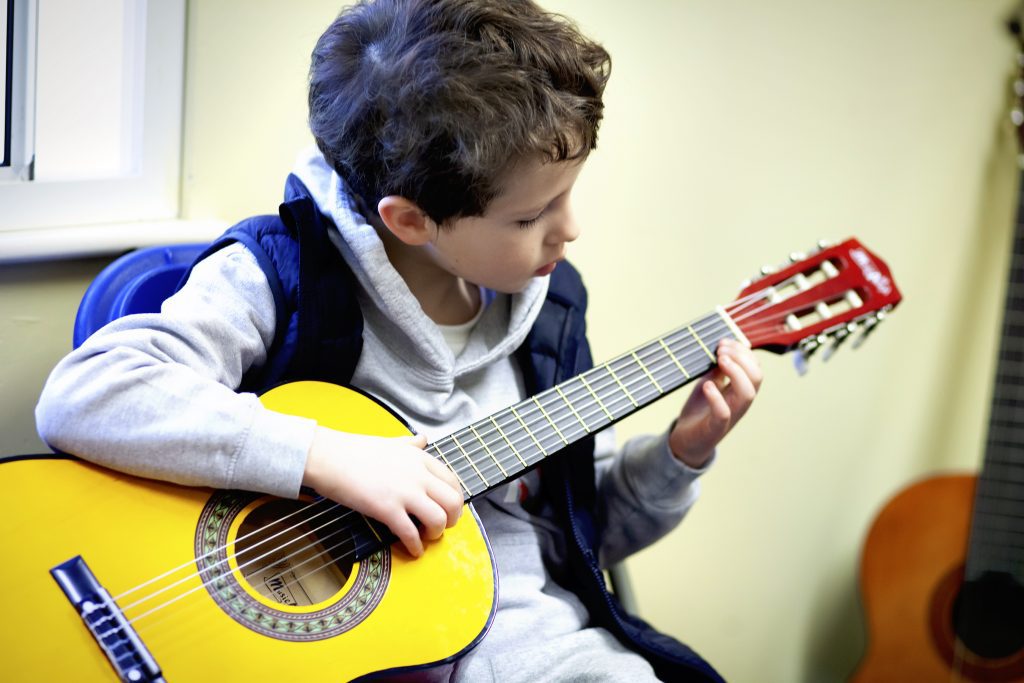 Lessons are currently available for:
Guitar (electric and classical), violin, tuba, euphonium, baritone horn and piano.
We plan to add more instruments soon!
---
Term Dates
Never miss a beat.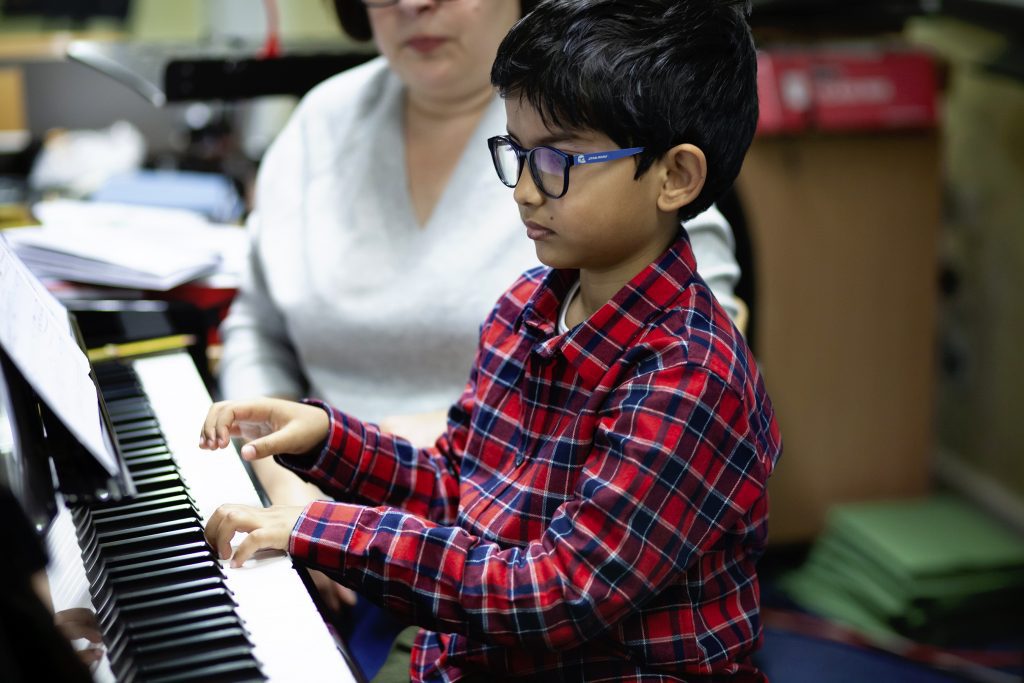 10 lessons per academic term
---
Lesson Fees
One-to-one instrumental lessons in Wimbledon
We offer a range of lesson types for different ages, abilities and budgets. We also offer financial assistance via our bursary funds. Tuition is charged termly for a block of 10 lessons
---
Sign Up Now
No one ever regrets learning to play an instrument. Support your child's development and encourage their creativity.
---
Find Out More
Everything you need to know to start your child's musical journey with MMF
Learn In a Merton School
We teach one-to-one, paired and small group lessons during the school day in a wide range of schools throughout Merton. Your child will be guided by one of our highly skilled, specialist tutors to enable them to develop the skills, knowledge and understanding necessary to make outstanding progress on their instrument and develop a life-long passion for music.
We are delivering in-person lessons in over 70% of the schools in which we normally teach. All lessons are subject to strict COVID safety protocols.
Where lessons can't be taught in-person, we offer online lessons instead.
Click here to see the in-person teaching status of your child's school. 
COVID-Safe
We are working closely with schools and have implemented a range of hygiene and distancing protocols to ensure the safety of our tutors and pupils.
Click here to find out more about how we are unlocking music lessons in Merton
If you are only interested in in-person lessons, please tell us this in the 'Notes' during the sign-up process. It may be necessary for your child to be put on to our Waiting List.
It may take us a little while to make in-person teaching arrangements with some schools it may not be possible to fulfil in-person teaching in some settings until social distancing restrictions are relaxed. 
All in-person lessons are subject to being transitioned online in the event of local lockdown, school closure or tutor/pupil self-isolation.
Learning at a Music Centre
MMF Music Centres
We operate Music Centres across the borough, where pupils can participate in 1-1 instrumental lessons with one of our specialist tutors out of school hours.
We also run a range of choirs and ensembles open to members of our South Wimbledon based Music Centre. Music is best when we make it together! By joining one of our groups, your child will develop their musicianship and ensemble performing in a safe and welcoming environment.
Find out about our Music Centre lessons & ensembles. 
MMF Music Centre, South Wimbledon
Merton Abbey Primary School, High Path, South Wimbledon, SW19 2JY

Monday/Wednesday after-school 4pm - 9:30pm, Tuesdays after school 4pm - 6pm & Saturday mornings 8:30am - 2pm

1-1 lessons in brass, woodwind, percussion, strings, voice, guitars and piano.
Crown Lane Percussion School, Morden
Crown Lane Studio, 8b Crown Lane, Morden, SM4 5BL

Mondays, Tuesdays, Wednesdays, Thursdays after-school.

1-1 Drum Kit and World Percussion lessons.
Saturday Music School, Wimbledon College
Wimbledon College Music Department, Edge Hill, SW19 4NS
Saturdays 8am - 5pm
1-1 instrumental lessons
Soundwave, Mitcham
The Ark @ Sherwood, Abbots Road, CR4 1JP
Tuesdays & Fridays 3:45pm - 7pm
Music Production, DJ and Turntablism Lessons and Classes.
All in-person lessons are subject to being transitioned online in the event of local lockdown, school closure or tutor/pupil self-isolation.
Want to know more? Contact Us.
Online Lessons
Flexible, fun, more parental involvement.
Pupils can learn exclusively online with a specialist tutor via Zoom or top-up in-person lessons outside of term time by arrangement.
Rated 4.5 stars out of 5 by parents for 'overall quality of teaching and learning'.
Not convinced? Book now and if your child doesn't want to continue after their first lesson - we won't charge you!
Click here to provide 'E-Learning Consent' for a child that is already registered with us. 
Staying Safe, Together.
In person lessons take place in a COVID-safe room with ventilation and enough space for your child and their tutor to maintain a social distance of 2 metres at all times. Our tutors participate in voluntary twice weekly rapid Lateral Flow Device (LFD) self-testing and adhere to all Government and school rules regarding hygiene and mask wearing.
Our tutors complete a thorough risk assessment, based on our template, and ensure that enhanced physical and respiratory hygiene processes are adhered to at all times.
Your child will be asked to wash or sanitise their hands before and after every lesson and to only bring the equipment that they need with them to their lesson. There may also be additional specific measures that your child and their tutor need to take, depending on the nature of the instrument your child is learning with us.
See our COVID-safe lesson guide and risk assessment templates here. 
"Lessons have been amazing and my son has remained motivated and excited to learn and practice. It's been wonderful to hear bits of the lessons and how positive and encouraging (my son's tutor) is."

Parent of an MMF pupil.
---
Our Music Centres
Find out about the Crown Lane Percussion School in Morden
Find out about Merton Music Centre, South Wimbledon
Take me back to the main Music Centres page